by Jennifer Harman, Editor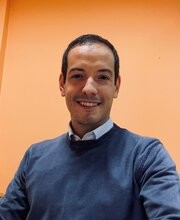 JH: Tell us a bit about yourself and your current focus of research
ALG: My name is Antonino Lo Giudice, and I am an Orthodontist and Professor of Pediatric Orthodontics at the Dental School of the University of Catania. My current research focuses on Digital Orthodontics, 3D Imaging, CAD-CAM systems, Artificial Intelligence and on how these new technologies can improve both patients' and clinicians' treatment clinical experience. In this regard, digital technology has always been a scientific pillar of our Department of Orthodontics as well as it represents an integral part of our clinical work-flow, from diagnosis to treatment stages.
I would like to use this interview to warmly thank Professor Rosalia Leonardi, Chairman of the Dental School and Head of the Department of Orthodontics, for the incessant and leading scientific and clinical support.
JH: What do you think is the most fascinating recent development in oral health?
ALG: Recent advancements in 3D imaging technologies allow the 3D virtual representation of patient's facial characteristics (skeletal, soft-tissue and dento-alveolar components), by integrating data from different scanning systems such as Cone-Beam Computed Tomography (CBCT), intra-oral and facial scanner. In this regard, it is now easier to reach a comprehensive diagnosis and a deeper approach to rehabilitative planning, including those involving a multidisciplinary approach. Two examples? Just think about the possibility of virtually planning the insertion procedure of orthodontic mini-screws or establishing pre-programmed orthodontic movement with clear aligners or digital customized appliances, including a deeper evaluation of patient's facial, skeletal, and bone characteristics.
JH: Is there an area of oral health that you think is currently under-explored?
ALG: More evidence is needed to assess the clinical applications of Artificial Intelligence and Machine Learning in the Orthodontics field. However, this topic cannot be considered "under-explored" since many studies have been published. But it is not enough.
I strongly believe that Tele-Medicine, in the form of Tele-Orthodontics and Treatment Monitoring systems, represents a new unexplored area of research in Orthodontics.
JH: Where do you see (or where would you like to see) the oral health field in 10 years from now?
ALG: I envision a full-centred patient approach where biological and physiological principles, digital technologies, and filtered patient-driven expectations can be fully integrated, improving the treatment's effectiveness and efficiency, optimising the patient experience, and streamlining operations in orthodontic practice.
JH: What does it mean to you to be an Editorial Board Member (EBM) for BMC Oral Health?
ALG: First of all, it is an honor to be an Editorial Board Member of such a prestigious scientific journal. From my career perspective, it represents a progress of self-learning and self-improvement as well as it allows me to extend my scientific network to peer experts around the world who share the same research interests.
JH: What is one piece of advice you would give to reviewers as an EBM handling manuscripts?
ALG: To accept to review manuscripts strictly in their field of expertise, without any form of improvisation. Also, to accept or decline the invitation to write a report on the submitted manuscript as soon as possible.
JH: What is one piece of advice you would give to the authors of submitted manuscripts?
ALG: To carefully read and follow the authors' submission guidelines to streamline the editorial management of the submitted manuscript. This will be also beneficial for the submitting authors since it would expedite the revision process.
JH: What would you change in scientific publishing if you could?
ALG: I strongly encourage journals to provide editors and reviewers credits to support their scientific visibility. The efforts that editors and reviewers make to dedicate time for editorial projects during their busy working day should be highlighted with specific initiatives such as those often provided by BMC Oral Health.