by Jennifer Harman, Editor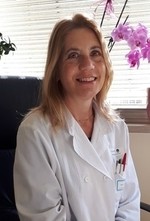 JH: Tell us a bit about yourself and your current focus of research
CG: My name is Cristina Grippaudo. I am a Doctor in Dental Science and a Postgraduate in Orthodontics. I have been working at the Dental Institute of Università Cattolica del Sacro Cuore and at the Dental Clinic of Fondazione Policlinico Universitario "A. Gemelli" IRCCS since 1990; my position is Associate Professor in Orthodontics. My interests are in Orthodontics, and I have published articles on different topics in this field. I am a Professor in the graduate Course in Dentistry, in the Course of Speech Therapy, and Director of the Course in Dental Hygiene. Among my publications, the most cited are on the association of risk factors with malocclusion, craniofacial growth and dental development, and the diagnosis of malocclusion. In addition, I collaborate with a group of geneticists for research on the Primary Failure of Eruption. I am also interested in new technologies, and I am committed to researching stereophotogrammetry in face analysis.
JH: What do you think is the most fascinating recent development in oral health?
CG: I am fascinated by the possibility of improving our knowledge deriving from new technologies. Therefore, I am experimenting with these new technologies in all my fields of research. For example, Artificial Intelligence helps us analyse data and make diagnoses and treatment plans. In addition, new materials and digital workflows are changing our profession.
JH: Is there an area of oral health that you think is currently under-explored?
CG: In Orthodontics, there is little evidence on the outcomes of functional therapies during infancy, despite it being a practice used by many orthodontists. Other areas that could be developed are interdisciplinary research and studies on new technologies.
JH: Where do you see (or where would you like to see) the oral health field in 10 years from now?
CG: In the next 10 years, I would like to see technology for dentistry cheaper and easier to use.
JH: What does it mean to you to be an Editorial Board Member (EBM) for BMC Oral Health?
CG: Acting on the BMC Oral Health Editorial Board allows me to improve my knowledge and ability to evaluate papers and write my own.
JH: What is one piece of advice you would give to reviewers as an EBM handling manuscripts?
CG: Reviewing a manuscript is not an easy task. I find asking the following questions helpful: (1) Are the aims are clear? (2) How original is the research? (3) Do the methods sufficiently address the aims? (4) Are the conclusions supported by the data presented? (5) Do the findings add to knowledge in the field? If possible, I also suggest reading the other reviewers' comments attentively.
JH: What is one piece of advice you would give to the authors of submitted manuscripts?
I advise authors to submit original research that adds to knowledge in the field. In addition, adhering to the appropriate reporting guidelines and completing the recommended checklists (e.g. STROBE, SPIRIT, PRISMA, CARE, ect.) could help ensure that your manuscript is prepared accurately.
JH: What would you change in scientific publishing if you could?
Sometimes it isn't easy to find colleagues available to review manuscripts. I suggest that publishers give Editorial Board Members more credit for this difficult and time-consuming work.