The Human Sweet Tooth
BMC Oral Health
2006
6(Suppl 1):S17
Abstract
Humans love the taste of sugar and the word "sweet" is used to describe not only this basic taste quality but also something that is desirable or pleasurable, e.g., la dolce vita. Although sugar or sweetened foods are generally among the most preferred choices, not everyone likes sugar, especially at high concentrations. The focus of my group's research is to understand why some people have a sweet tooth and others do not. We have used genetic and molecular techniques in humans, rats, mice, cats and primates to understand the origins of sweet taste perception. Our studies demonstrate that there are two sweet receptor genes (TAS1R2 and TAS1R3), and alleles of one of the two genes predict the avidity with which some mammals drink sweet solutions. We also find a relationship between sweet and bitter perception. Children who are genetically more sensitive to bitter compounds report that very sweet solutions are more pleasant and they prefer sweet carbonated beverages more than milk, relative to less bitter-sensitive peers. Overall, people differ in their ability to perceive the basic tastes, and particular constellations of genes and experience may drive some people, but not others, toward a caries-inducing sweet diet. Future studies will be designed to understand how a genetic preference for sweet food and drink might contribute to the development of dental caries.
Keywords
Dental CariesTaste ReceptorSweet TasteSweet FoodTaste Receptor Cell
Introduction
The sense of taste gives us important information about the nature and quality of food, and of all the basic taste qualities, sweetness is the most universally liked. The human appetite for refined sugar and for sweet foods and drinks has been so strong that it has influenced the course of human history, and the recent and sharp rise in the consumption of sugar may be unprecedented. However, although there is a strong desire on the part of humans to seek and ingest sweet foods and drinks, it would be inaccurate to view the liking and enjoyment of sweetness and sweeteners as uniform across people and populations. The reasons for these individual differences are largely unknown, but the explanation for these differences could have important public health consequences. Several variables are good predictors of how well sweets are liked, such as age (
e.g
., children are more avid consumers than are adults). The term "sweet tooth" has been coined to describe people who "prefer" sweets, implying that these individuals differ from those who "do not prefer" sweets. However, sweet perception varies even in the same individual over time, and therefore a well-conceived model of the sweet tooth must be able to account for this observation and a broad range of other variables (Figure
1
).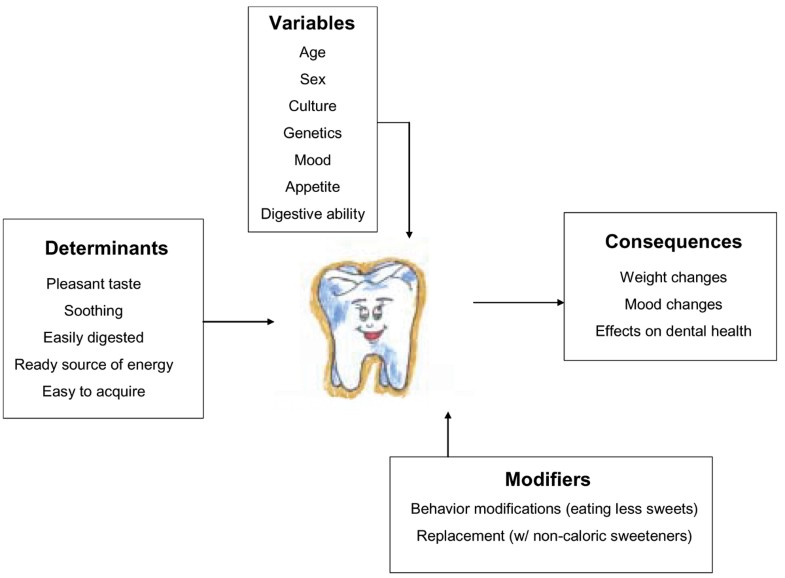 There are several facets of the human sweet tooth, and several academic disciplines, such as genetics, nutrition, and psychology, that contribute to our understanding of this trait. For instance, recent studies in mice demonstrate that DNA sequence variants in a sweet taste receptor gene have an effect on sweet preference and intake, and so it is possible that genetic differences among individuals may play a role in the human sweet tooth. Understanding sweetness also expands our understanding of bitterness. Bitter perception is related to sweet perception in humans, and these two sensory systems share some common features. The amount of calories we consume from sweet substances may play a role in the regulation of our body weight and overall nutritional status. Other variables help shape our behavior toward eating sweets and determine how many calories we consume from them, such as differences in our ability to digest sugars. Additionally, the taste of sweet may be sought for its pleasurable and soothing properties, and thus may be consumed irrespective of the nutritional consequences. Our individual behaviors toward sweets and our underlying reasons for consuming sweets are complex; therefore, an extensive understanding of the sweet tooth will assist us in tailoring nutritional advice.
Conclusion
The sweet tooth is culturally universal and has played an important role in human evolution. However, the perception of sweet differs greatly across individuals and groups, and behaviors and preferences toward sweet are affected by an entire range of variables, from genetics and age to personal experiences and cultural beliefs. Studies of sweet perception have increased our understanding of individual differences, and genetic studies are expanding our knowledge even more. Finding ways of combining different types of measures into single studies gives us a more comprehensive understanding of the sweet tooth and the role it plays in our lives, including the consequences on our health. We hope, with continued and focused study, to unravel more of the mysteries that surround our sweet tooth so that we may find more effective ways to shape and modify it for our well-being.
Declarations
Acknowledgements
Michael G Tordoff, Julie A Mennella, Beverly J Cowart and Gary K Beauchamp commented upon earlier drafts of this chapter. The editorial advice of Patricia J Watson is gratefully acknowledged.
Authors' Affiliations
(1)
Monell Chemical Senses Center, Philadelphia, USA
Copyright
© Reed and McDaniel.; licensee BioMed Central Ltd. 2006
This article is published under license to BioMed Central Ltd. This is an open access article distributed under the terms of the Creative Commons Attribution License (http://creativecommons.org/licenses/by/2.0), which permits unrestricted use, distribution, and reproduction in any medium, provided the original work is properly cited.