Research article
Open Access
Open Peer Review
This article has Open Peer Review reports available.
Oral health-related cultural beliefs for four racial/ethnic groups: Assessment of the literature
Received: 01 September 2007
Accepted: 15 September 2008
Published: 15 September 2008
Abstract
Background
The purpose of this study was to assess information available in the dental literature on oral health-related cultural beliefs. In the US, as elsewhere, many racial/ethnic minority groups shoulder a disproportionate burden of oral disease. Cultural beliefs, values and practices are often implicated as causes of oral health disparities, yet little is known about the breadth or adequacy of literature about cultural issues that could support these assertions. Hence, this rigorous assessment was conducted of work published in English on cultural beliefs and values in relation to oral health status and dental practice. Four racial/ethnic groups in the US (African-American, Chinese, Filipino and Hispanic/Latino) were chosen as exemplar populations.
Methods
The dental literature published in English for the period 1980–2006 noted in the electronic database PUBMED was searched, using keywords and MeSH headings in different combinations for each racial/ethnic group to identify eligible articles. To be eligible the title and abstract when available had to describe the oral health-related cultural knowledge or orientation of the populations studied.
Results
Overall, the majority of the literature on racial/ethnic groups was epidemiologic in nature, mainly demonstrating disparities in oral health rather than the oral beliefs or practices of these groups. A total of 60 relevant articles were found: 16 for African-American, 30 for Chinese, 2 for Filipino and 12 for Hispanic/Latino populations. Data on beliefs and practices from these studies has been abstracted, compiled and assessed. Few research-based studies were located. Articles lacked adequate identification of groups studied, used limited methods and had poor conceptual base.
Conclusion
The scant information available from the published dental and medical literature provides at best a rudimentary framework of oral health related ideas and beliefs for specific populations.
Keywords
Traditional Chinese MedicineOral HealthCultural BeliefDental ServiceCultural Issue
Background
Culture is often defined as coherent, shared patterns of actions or beliefs specific to named groups of people that provide basic life roadmaps or social contexts, defining behavioral norms and interpersonal relationships as well as unwritten rules for proper living. A key element of social context is the patterned process of people making sense of their world, and the (conscious and unconscious) assumptions, expectations, and practices they call upon to do so [1]. Culture organizes the group's norms of family life, birth, childrearing, aging, and death [2] as well as their recognition of illness and care-seeking practices around health or medical conditions. Sometimes these beliefs and practices can facilitate or act as barriers to accessing health care services.
Reports on the state of oral health of the United States populations suggest that people from specific ethnic minorities often have poor oral health status [3–5]. Being a part of an ethnic minority group does not inevitably lead a person to have poor oral health. It does suggest, however, that there may be certain cultural beliefs and practices common to the people in these groups which influence their oral health status, such as values placed on having healthy primary teeth or expectations about preventive or therapeutic interventions. Cultural factors may have important implications for an individual's own health and those of others for whom they provide care, such as children and the elderly [6–9].
Race/ethnicity is a marker for oral health status. Underlying cultural beliefs and practices influence the condition of the teeth and mouth, through diet, care-seeking behaviors, or use of home remedies, for example. It is important to note that among, and within, all racial/ethnic groups there are substantial differences in beliefs and behaviors, which can lead to varying health status. Such differences are often associated with demographic characteristics. For example, Latinos from Puerto Rico share certain characteristics with Latinos from El Salvador yet may have very different health status, attitudes towards and patterns of use of health services [10, 11]. Similarly, Mexican and Mexican-American populations have different health experiences and patterns of service use, due in part to socio-cultural differences. Research on poor health outcomes generally examines deterrents such as high cost, lack of insurance and availability of services, but often aspects of cultural ideas and practices are also suggested as additional deterrents [12].
Worldwide, there are multitudinous distinct ethnic minority and cultural groups [13]. Some groups are indigenous to the country in which they are found; others are migrants. In the US, for example, there are over 500 federally recognized indigenous American Indian tribes and bands. There are multiple other ethnic communities too along with immigrants from every region of the world. In recent decades, for example, people from North Africa, Turkey, the Middle East, and Asia have moved not just to US but also to France, Germany, Scandinavia, Britain, South America and Australia, and other countries. Every ethnic group has its own set of beliefs and attitudes towards oral health care.
Focal ethnic groups
To explore the vast topic of cultural beliefs and practices in relation to oral health, this literature assessment focuses attention on four population groups that reside in the US: African American, Chinese, Filipinos and the Hispanic/Latino populations. The selection of these groups was based on their demographic importance, geographic dispersion, family composition and the proportion of the population experiencing socio-economic hardship [14], all factors that may be associated with populations most likely to be experiencing oral health disparities compared to the mainstream US population [5]. Nationally, African-Americans, numbering 37 million in 2001, and Hispanic/Latinos, reaching 44 million, were the largest minority groups [15]. In 2000, Chinese and Filipino were the most frequently reported Asian ancestries in the U.S. [15]. This review was conducted in conjunction with a qualitative study undertaken in California [7] of cultural factors associated with oral health. Within California, the most populous state, Latino and Asian groups are increasing fastest, with Hispanics comprising almost a third, Chinese comprising 2.9% and Filipinos 2.7% of the nearly 34 million total population in that state in 2000 [14]. All four groups in the US as a whole and in California are demographically young: at least two-thirds of these populations is aged 18 years or less, and except among African-Americans, at least two-thirds of the population in each group speaks a language other than English when at home [16].
All available, retrievable literature on culturally specific health beliefs around oral health was gathered for these four population groups to produce an assessment of the adequacy of the published literature in representing that population's oral health culture. This article examines and evaluates the state of knowledge relevant to the broad topic of how culture affects each group's oral health. The primary research question was: Does the published oral health literature adequately document cultural beliefs and practices for each specific group? A series of sub-questions further framed this assessment: a) How much literature is there? b) What types of literature exist, and what methodological approaches and research designs have been used in examining cultural issues in relation to oral health? c) What content or information has been presented? d) How useful is present knowledge for guiding clinical understanding?
Methods
The literature was scrutinized in relation to five major domains of cultural information, four of them specific to oral health: 1) basic conceptual models or ideas about health and disease, 2) help-seeking for oral conditions, especially use of folk or traditional health remedies, 3) diet, 4) beliefs and practices about teeth and the oral cavity, and 5) oral hygiene practices. Collectively, these domains shape people's cultural beliefs and practices related to oral health and reasons for seeking dental services for themselves and their dependents, such as the elderly and children. Later, we use these domains to organize and present the topical findings.
Literature search
To identify literature on cultural beliefs and practices regarding oral health, the electronic database for the National Library of Medicine (PUBMED) was searched for all relevant literature published in the English language spanning a twenty-seven year period, 1980 to 2006. The search was limited to the four ethnic groups mentioned above. This time period was selected because a system to collect data on the ethnic background of populations in the US was not in place until the late 1970's e at [17]; hence the 1980 date to ensure that system was well established. The period ends at 2006, as this was the latest year in which complete data was available for an assessment performed in 2007.
Keywords and MeSH headings were used in many different permutations to identify relevant literature. Descriptors for each of the four ethnic groups were sequentially combined with each term in the following two lists: (1)"traditional medicine", "folk medicine", "cultural beliefs", "ethnicity", "racial", "traditional practices" AND (2) "dental", "dentistry", "oral", "teeth", "gums", "caries", "periodontal". Because using all the search words together in a serial manner yielded significantly lower numbers of relevant articles, each ethnic group's name was combined with one search word from each of the two lists in a step-wise fashion. One example is (Chinese) AND (traditional medicine) AND (dentistry). Search words used are reported in Table
1
.
Table 1
Summary of keywords and MeSH headings used to identify relevant literature
| | Keywords or MeSH terms |
| --- | --- |
| 1 | (African American/Black) (traditional medicine, folk medicine, cultural beliefs, ethnicity, racial, traditional practices), (dental, dentistry, oral, teeth, gums, caries, periodontal) |
| 2 | (Chinese/Oriental Asian) (traditional Chinese medicine, folk medicine, cultural beliefs, ethnicity, racial, traditional practices), (dental, dentistry, oral, teeth, gums, caries, periodontal) |
| 3 | (Filipino/Philippines) (traditional medicine, folk medicine, cultural beliefs, ethnicity, racial, traditional practices), (dental, dentistry, oral, teeth, gums, caries, periodontal) |
| 4 | (Hispanic/Latino) (traditional medicine, folk medicine, cultural beliefs, ethnicity, racial, traditional practices), (dental, dentistry, oral, teeth, gums, caries, periodontal) |
The search words were pre-tested and refined in order to select the final search terms (by YB and JCB). One author (YB) conducted the PUBMED search using the above strategy on two separate occasions, with identical lists of publications resulting. The titles and abstracts (when available) were read and appropriate articles selected and retrieved for review of the article in its entirety. These selection criteria, developed by YB and JCB, were (a) the article must mention at least one specific belief or practice, and (b) had to name the ethnic group studied. Articles that spoke generically of "cultural influences", or stated "ethnic" or "minority groups" without specifying the name of the population, were excluded. A data abstraction form, available from the corresponding author, was developed to ensure rigorous abstraction of all relevant data. This form included headings to collate information on the name, location and socio-demographic composition (e.g., age, income level) of the ethnic groups studied, sample size, study design, and beliefs reported. Descriptive findings are reported.
Inclusion and exclusion criteria
To capture as much relevant information as possible, all types of literature were included, such as reports of original research, reviews, commentaries, comments, letters and opinions because the volume of publications discussing cultural issues is very slim. Publications were excluded if they reported only quantitative epidemiologic data with no reference to specific beliefs or practices regarding oral health for the group(s) under study, or if the reports were generic overviews linking cultural issues to oral health, but information specific to these four ethnic groups was not presented or could not reasonably be deduced from the original report. A secondary search of the bibliography of the appropriate selected studies was also performed to identify any relevant articles that were not identified by the primary PUBMED search. The relevant literature for each population group was assessed for methodological approach, the nature of the cultural information presented, and its degree of relevance to oral health or the practice of dentistry.
For groups other than the African-American population, the search strategy was not limited to studies published or conducted in the US. For the Chinese, Filipinos, and Hispanic/Latinos immigrant populations, all the literature discovered was reviewed and, if relevant, was included, irrespective of place of study. The three groups of interest are all recent (mainly within the past 30–50 years) immigrants with strong connections still to their countries of origin, connections that can serve to strengthen resistance to changes in beliefs and attitudes. Several reasons support the decision to include relevant studies from outside the US. Changes due to acculturation to a new environment occur in staggered fashion, with change in behaviors occurring long before changes in underlying beliefs. As noted in the introduction, changes in diet, types of health care utilized, access to these services, financial stability, social status and so forth, can – and often do – all change dramatically and rapidly soon after migrating to a new country. Cultural knowledge, beliefs and attitudes about health and sickness, however, especially of causes, recognition and consequences of illness, and proper treatment, change far more slowly, often not until the next generation is born and raised in the new country of residence. So, some included studies refer to these populations in their homelands or in the United Kingdom or Singapore or elsewhere. For African-Americans, however, the literature was restricted to include only studies referring to descendents of populations originating in Africa and brought to the United States as slaves before 1860. Publications referring to other Black or African immigrant populations in the U.S. (e.g., Ethiopian, Black South African, Afro-Caribbean groups) were excluded because compared to African-Americans these groups have had very different socio-political histories and experiences, and have distinctly different cultural beliefs and practices.
This review is intended to assess the knowledge or understanding of the cultural beliefs about oral health for these four selected ethnic groups, and thereby to assess more generally knowledge of cultural issues in the oral health literature.
Results
A schematic representation of the search strategy and the articles found is presented in Figure
1
. A total of 60 studies were included in this review: 16 articles about African-Americans [
18
–
33
], 30 about Chinese [
12
,
34
–
62
], two about Filipinos [
6
,
63
] and 12 about Hispanic/Latinos [
10
,
23
,
64
–
73
]. Figure
1
summarizes the search strategy and the quantity of included and excluded literature. For every population group, more than 80% of the literature initially identified was excluded as it either did not discuss at all or discuss in any detail any connection between cultural ideas and oral health.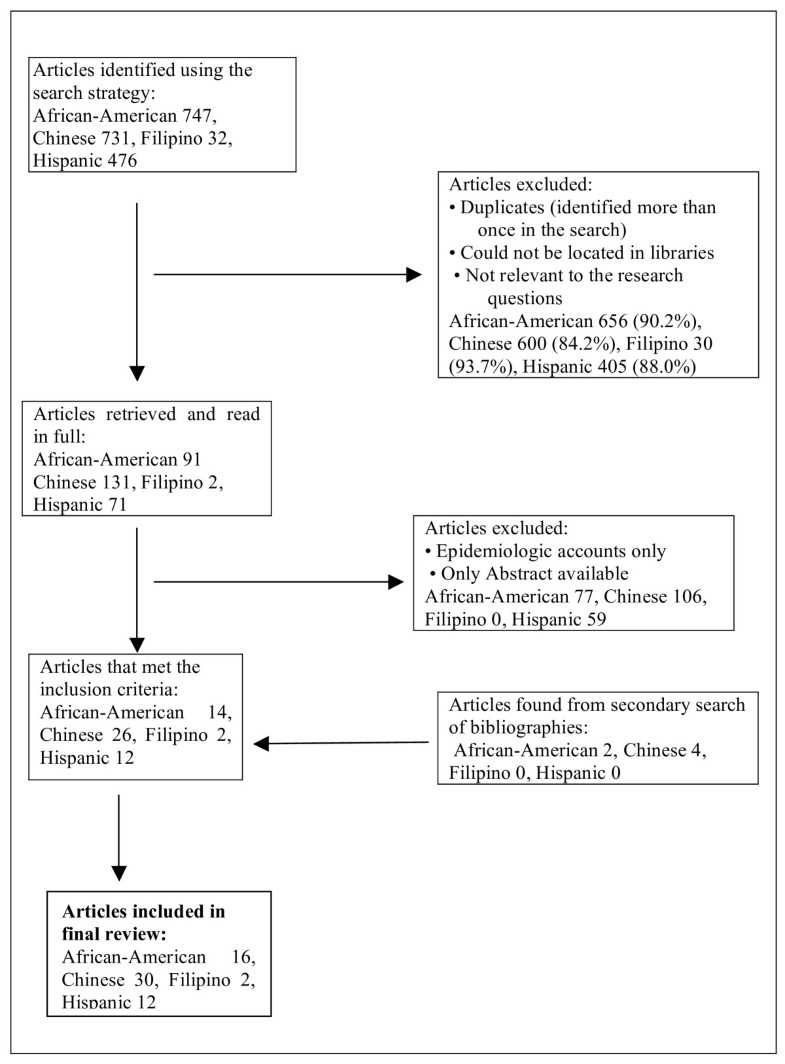 Discussion
While many epidemiological studies and clinical surveys suggest links between race/ethnicity and oral health status, actual cultural beliefs and values that influence decisions or practices regarding oral health are seldom reported. Much of the published literature on the oral health of ethnic minorities and other disadvantaged groups is epidemiological in nature. These accounts are important and make many key contributions to knowledge, often pointing to the importance of cultural issues as factors influencing the results being reported. As revealed by this assessment of the literature, few, if any, of these clinical, quantitative or epidemiological studies further specify the precise nature of the cultural issues alleged to be of relevance.
Relatively few studies have been published with a focus on culturally influenced beliefs and behaviors affecting oral health. Using the search strategy noted, we found almost nineteen hundred references for all four race/ethnic minority populations; however, only about 10% (246 references) were deemed relevant and were read in full. Of these, only a small proportion (60 in total; 23% of initially screened) met all the inclusion criteria for this study and were included in this review. Surprisingly, although Hispanics/Latinos and African-Americans are the largest racial/ethnic minority groups in the US there is still very limited literature on their health-related cultural beliefs and practices and the influence of these on oral health. The majority of included works referred to the Chinese population. As yet, almost no information links culture and oral health for the Filipino population.
This review is the first of which we are aware to summarize and evaluate the state of the literature in dental science sources related to cultural beliefs and practices and their influence on oral health. This literature search has identified several large gaps in knowledge about cultural influences on oral health and health care. It is important that these gaps be addressed if improvement in the oral health status of minority populations is to be achieved.
Limitations
This review has some limitations. First, only four groups were included. This strategy excludes many other minority groups in the US and elsewhere. However, the four racial/ethnic population groups included here are populous with considerable heterogeneity within the groups by geographic location, and socio-economic status in particular. Three of these populations (Chinese, Filipino, and Hispanic/Latino) are growing rapidly not only in the US, but in other parts of the world which makes knowledge of their cultural beliefs increasingly important to oral health globally. Second, titles and abstracts when available, and not full texts, were used initially to identify works that discussed in some sustained way cultural values and their influence on oral health. A basic assumption was that information pertinent to a central discussion of cultural issues would be mentioned in the abstract. Information in the body of the text would not have been gleaned from articles with only incidental attention to this topic. Third, while some psychosocial electronic databases also abstract chapters in books associated with major publishing houses in their areas of interest, this is not the case for medical and dental literature. Hence, work published outside peer-reviewed mainstream medical or dental journals, in books or in sources not abstracted by PUBMED, was not reviewed. Hand searching was not undertaken, and misclassified articles were not retrieved. Thus some relevant articles may have been missed.
There is little reason, however, to think that this review about cultural influences on oral health would be vastly different if other nations or race/minority groups were chosen to anchor the investigation. The US is a large nation with a prolific and active research enterprise, yet even with that capacity surprisingly little systematic research attention has been paid to this topic. The four focal groups are demographically significant within the US and its most diverse state, California; several of these focal groups comprise significant minority populations elsewhere in the world, too. Yet, with the exception of (migrant) Chinese, the depth and extent of cultural knowledge relevant to oral health is very slim indeed. While some additional pertinent information can be found in sources outside dental science, in books and articles by social and behavioral scientists for example, frequently this work is not readily accessible, especially for clinicians working outside academic institutions. Even this information, however, is largely incomplete, scattered across multiple sources, and difficult to locate, especially if not catalogued in searchable databases or available in electronic format.
Implications for future research
Qualitative research is often thought not to be suitable for evidence-based systematic reviews since it does not provide numerical values for point estimates. However, it does provide valuable information leading to meaningful conclusions wherever appropriate. An example quoted by Dixon-Woods and Fitzpatrick [76] demonstrates the value of qualitative research in evidence-based practice using a Cochrane review on how to improve communication skills with children and adolescents about their cancer. This analysis focused only on randomized controlled trials and before and after studies, and included only 6 of 1500 identified studies. Clearly, a more inclusive view of what constitutes evidence is necessary to answer complex questions or address important issues that cannot be easily quantified [76].
In the last two years, some studies in the dental literature have done exactly what we call for: namely, more thorough and rigorous studies of cultural influences on oral health. Some of these works report cultural influences on oral health practices and attitudes for Chinese, African-Americans, Hispanics and Filipinos [7, 30–33, 59–62, 73, 74]. These more recent articles have utilized qualitative study designs and explored underlying cultural reasons for seeking, or delaying treatment for children. While connections between these oral health-related findings and other aspects of culture are still nascent, these more recent works are valuable for their more detailed attention to these connections. Studies that report oral health status in conjunction with cultural beliefs are helpful for teasing out cultural influences from other potentially confounding factors, such as income, education level and other social determinants that are important predictors of dental health and disease.
A relatively new approach to public health research is community-based participatory research (CBPR) [77]. This intensely collaborative approach involves community members in all phases of the research process including problem-identification, development of culturally appropriate research methods, and engagement in data collection and interpretation as well as dissemination of findings. Federal funding for this type of research has been increasing recently [78]. CBPR should help identify, enhance our understanding of culturally important beliefs and practices and increase implementation of culturally appropriate, acceptable and sustainable interventions and services.
Implications for designing future dental education and public health programs
The information gained from further research into cultural beliefs and its association with oral health and dental care seeking behavior and practices would be helpful in designing future preventive and treatment programs. Such programs with special considerations to ethnic beliefs could have a positive impact and increase utilization of preventive services. The US Surgeon General's Report [5] not only highlights disparities in oral health but also highlights the importance of social and environmental determinants of oral health and the need to adopt more holistic approaches to oral health promotion. A well-trained dentist should be not only need to be an expert in clinical skills but also able to elicit, recognize, accept and respect their patients' cultural beliefs. Professional dental care is increasingly conducted in multicultural environments. Since health care is a cultural construct arising from beliefs about the nature of disease and the human body, cultural issues are actually central in the delivery of health services treatment and preventive interventions. By understanding, valuing, and incorporating the cultural differences of America's diverse population and examining one's own health-related values and beliefs, health care organizations, practitioners, and others can support a health care system that responds appropriately to, and directly serves the unique needs of populations whose cultural beliefs, values and practices may be different from those of the surrounding dominant culture [79]. The diversity of ethnic groups in the US and elsewhere presents a challenge to both policy makers and oral health care providers who need to design and provide health care services to multiple populations. A deeper understanding of health behaviors as influenced by culture, health beliefs, acculturation, and attitudes is needed to formulate appropriate oral health promotion policies.
Conclusion
We conclude that, overall, dental science's present knowledge about how culture influences a group's oral health exhibits several deficits. These comprise: first, a lack of conceptual clarity and careful specification of the population under examination; second, an absence of explicit theory and use of a limited set or inappropriate type of method of inquiry; and, third, an incomplete and sketchy coverage of pertinent topics and age groups. These deficits can and are being remedied. Recent published works have done exactly what we call for: namely, more thorough, rigorous studies of cultural influences on oral health.
Qualitative researchers engaged in ethnographic, interview and naturalistic observational studies are well trained and skilled in conducting studies about cultural beliefs and practices, and often have experience in working with community collaborative partners. They should be encouraged to collaborate also with clinicians and dental public health practitioners to further this important avenue to understanding patients, their treatment decisions and outcomes.
Studies designed to further understand the role of cultural beliefs, values and practices should be targeted very specifically. Investigation should not be limited to the study of oral health of a particular age group (e.g., the elderly, children) but should examine attitudes toward oral health for all, adults and children, and cover broadly ideas related to oral disease etiology, pain, orthodontia, motivation for seeking care, maintaining good oral health, and actual oral health preventive and remedial practices. Carefully crafted, thorough investigations will assist clinicians to elicit, recognize, accept and respect their patients' cultural beliefs, and to develop appropriate therapeutic strategies as well as oral health promotion policies.
Abbreviations
PUBMED:

US National Library of Medicine
TCM:

Traditional Chinese Medicine
CBPR:

Community Based Participatory Research.
Declarations
Acknowledgements
Supported in part by training grant US DHHS/NIH/NIDCR T32-DE07306-11 and by research grant U54-DE14251, Center to Address Disparities in Children's Oral Health at the University of California, San Francisco.
Authors' Affiliations
(1)
Center to Address Disparities in Children's Oral Health at the University of California, San Francisco, USA
Copyright
© Butani et al; licensee BioMed Central Ltd. 2008
This article is published under license to BioMed Central Ltd. This is an Open Access article distributed under the terms of the Creative Commons Attribution License (http://creativecommons.org/licenses/by/2.0), which permits unrestricted use, distribution, and reproduction in any medium, provided the original work is properly cited.