Research article

Open Access

Open Peer Review
This article has Open Peer Review reports available.
An exploratory pilot study to assess self-perceived changes among social assistance recipients regarding employment prospects after receiving dental treatment
BMC Oral Health
2015
15:138
Received: 4 May 2015
Accepted: 15 October 2015
Published: 4 November 2015
Abstract
Background
Strengthening self-efficacy in job-seeking among individuals with dental problems has been identified as an important factor in facilitating job procurement and maintenance. There is no knowledge about whether receiving dental treatment improves someone's self-efficacy in seeking a job. This work explores this relationship.
Methods
An exploratory pilot study of a convenience sample of 30 social assistance recipients of Ontario, Canada, was conducted using a pre- and post-dental treatment survey, which included both quantitative and qualitative components. The survey included two validated instruments Oral Health Impact Profile (OHIP-14) and Job-Seeking Self-efficacy scale (JSS). Changes in scores of both scales following dental treatment were calculated. Pearson correlation was performed between OHIP-14 and JSS scores. Qualitative data were transcribed and interrelated ideas were grouped together to generate themes.
Results
Mean scores for OHIP-14 (23.4 to 6.7, p < 0.001, effect size: 1.75) and median scores for JSS (4.9 to 5.5, p = 0.002, effect size: 0.40) changed significantly after receiving dental treatment. A significant negative correlation (−0.56, p = 0.001) was observed between OHIP-14 and JSS scores indicating that job-seeking self-efficacy improves with improvement in oral health related quality of life (OHRQoL). Qualitative analysis reveals participants' physical and psychosocial impacts of dental problems; barriers experienced in accessing dental care and seeking a job; and changes perceived after receiving dental care.
Conclusion
Results of our survey indicate that social assistance recipients experience negative impacts of dental problems and perceive improvements in OHRQoL and job-seeking self-efficacy after receiving dental treatment.
Keywords
Unemployment
Oral health
Self-efficacy
Welfare
Dental treatment
Background
According to Locker's model of oral health, dental diseases lead to physical, psychological and social disability, influencing the way people eat, speak and/or socialize [1]. Among people who experience some level of social marginalization, the association of psychosocial function and dental health appears to be particularly strong [2, 3]. In this context, the association of such disabilities to an individual's employment situation has also received attention [4–6].
Oral diseases are distributed disproportionately in society and are concentrated among populations with low socioeconomic status. One such disadvantaged group includes people on social assistance, who along with poor oral health, also experience economic consequences as a result of oral disease [7, 8]. In this regard, policy entrepreneurs in welfare states have advocated for improved access to dental care for people on social assistance not only from an ethical perspective, but also to improve their prospects of employment [2]. Since little to no evidence exists to support this policy hypothesis, we conducted a population-based study among social assistance recipients in Ontario, Canada's most populated province, to compare employment outcomes among those who received and did not receive dental treatment under the province's social assistance program, Ontario Works (OW). Our study suggested that people who received dental treatment were more disadvantaged at baseline, and that treatment may have addressed their employment barriers to some extent, such that employment outcomes were levelled up over time [9]. This leads us to question what employment barriers may be addressed by receiving dental treatment? What are the self-perceived changes in terms of employment after receiving treatment for dental problems among this population? Does dental treatment, for example, affect self-efficacy among those seeking a job?
People with disabilities (including dental disabilities) who are unemployed may lack the necessary job-seeking skills required to secure employment. Strengthening self-efficacy in job-seeking among individuals with disabilities has been identified as an important factor in facilitating job procurement and maintenance [10]. Psychologist Albert Bandura defined self-efficacy as one's belief in one's capacity to mobilize the physical, emotional, and intellectual resources required to succeed in specific situations [11]. Feeling efficacious motivates intensification of efforts and persistence. The stronger the perceived self-efficacy, the more active the efforts are, whereas low levels of self-efficacy tends to result in self-limiting behaviors that create obstacles to new experiences.
The relationship between employment and self-efficacy has been demonstrated in the literature [12, 13]. For example, self-efficacy and self-esteem are intimately involved with unemployment. Self-esteem declines with unemployment and, in turn, affects self-efficacy. Securing employment acts as a restorative measure and enables self-efficacy to rebound.
Again, there is very little knowledge regarding how receiving dental treatment may mediate positive employment outcomes for disadvantaged populations. Based on the existing literature, we designed a conceptual framework that depicts the association of dental care and employment outcomes (Fig.
1
). According to this framework, addressing physical, pathological and psychological impacts of dental problems has the potential to improve oral health related quality of life (OHRQoL) and the efficacy of job-seeking, which could lead to positive employment outcomes. Our study was an endeavour to explore the effect of dental treatment on OHRQoL and job-seeking self-efficacy among patients on social assistance.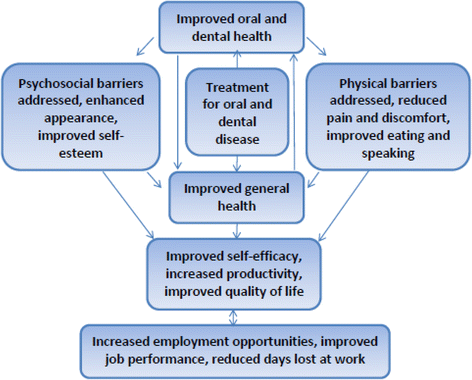 Methods
We hypothesized that for people on social assistance who have dental problems; the provision of dental treatment would improve OHRQoL and thereby improve their self-efficacy of job-seeking. Specific objectives were to observe changes in OHRQoL and job-seeking self-efficacy after receiving dental treatment; and to determine whether there is a correlation between changes in two aspects.
Results
According to the Shapiro Wilk test of normality, change in OHIP-14 scores was normally distributed (p = 0.25); however, JSS scores were not (p < 0.001). Mean OHIP-14 scores reduced from 23.4 (SD = 11.83) to 6.7 (SD = 6.45), reflecting that participants perceived better OHRQoL after receiving dental treatment. This change was statistically significant (p < 0.001) and the effect size was 1.75.
Qualitative data helped us to understand different aspects related to participants OHRQoL and employment prospects. In addition to responses to survey questions, some participants provided written narratives of their experiences. The four main themes, which emerged, are as follows:
Physical and psychosocial impacts of dental problems
Participants perceived their poor OHRQoL as a major barrier to their social life. Embarrassment associated and the distressing impact on self-esteem was discussed. Such experiences are in accordance with the a study done in Canada by Bedos et al. [2].
Financial barriers experienced in accessing dental care
Most of the participants discussed the financial hardship they experienced in accessing dental care. Without enough money of their own, and with publicly funded dental services limited to emergency, the respondents shared their struggle with finding ways to receive cheaper services. Some participants shared their provider's generous dental financial aid schemes such as monthly payment plan, which facilitated their timely treatment. One of the participants stopped going to his regular dentist, as the latter charged patients upfront and did not deal with any dental insurances directly.
Changes encountered after receiving dental care
Some participants shared the changes they perceived after receiving dental treatment. In particular, participants who received dentures were very excited to share their stories.
Other barriers encountered in seeking a job
Apart from poor OHRQoL, increasing age, low education, young children, lack of English language proficiency, and poor general health were the main barriers perceived by study participants in seeking a job. Among health issues, mental health and arthritis were the major concerns.
Discussion
Face-to-face pre- and post-treatment interviews were conducted among social assistance recipients in Ontario to assess if dental treatment helped in improving OHRQoL and in turn enhancing job-seeking self-efficacy. The dental needs of study participants were assessed by self-report and no clinical examinations were performed. Data collection was primarily quantitative in nature and qualitative component was basic in methodological robustness; however, participants' responses were very informative and corroborated findings of quantitative analysis. This was the first such work conducted in the Canadian context. Participants' responses reflect the vulnerability of this social group, and suggest that dental treatment can address physical as well as psychosocial disabilities related to dental problems. Change in mean OHIP-14 scores is in accordance with other studies [24, 25]. Job-seeking self-efficacy also appears to have enhanced after receiving dental care.
The effect size for change in OHIP-14 score was large; however, for JSS score it was moderate. Interestingly, Pearson correlation revealed that change in social skills but not independence skills was significantly associated with change in OHIP-14 scores. These results are understandable, as it is arguably naïve to think that improvements in job-seeking self-efficacy could be completely attributable to improvements in OHRQoL. A substantial interplay of other individual and social determinants with OHRQoL and employment outcomes of our study participants was expected and was confirmed through the qualitative component of our study. Factors such as the inability to eat and speak, feelings of persistent self-consciousness and social exclusion, financial struggles to make choices between dental treatment and daily utilities, poor general health including mental health issues, and dependence on recreational drugs emerged, which were perceived by participants as barriers to their employment and also to improvements in their OHRQoL. This study suggests that timely dental care can, to a certain extent, address employment barriers. From the policy perspective, reducing an individual deficiency (which is poor OHRQoL in this context) to improve employment opportunities is only one aspect of handling social determinants of health; however, addressing poor OHRQoL cannot be discounted, especially when we now know that improving OHRQoL affects self-efficacy, which has long term positive impacts in general.
Our study though recruited participants from three different sites, it included a non-probabilistic sample of only thirty participants; therefore, results of this study cannot be generalized and should be extrapolated for other populations with caution. If larger sample size could be recruited, a control group would have been established to observe if OHRQoL and JSS changes over time without dental intervention. Also, it would have been interesting to observe if JSS deteriorates, for those, who could not seek required dental treatment. Nonetheless, the effect sizes calculated through this study will certainly be useful in conducting a larger study in the future. Ultimately, being face-to-face surveys, these results can be subjected to reporting bias as participants responses might be modified in response to their awareness of being observed. However, being a mixed method study, administering face-to-face surveys were considered most suitable to have a thorough understanding regarding different aspects.
Conclusion
Our results suggest that after receiving dental treatment, OHRQoL and job-seeking self-efficacy may improve. Importantly, with the effect sizes calculated, larger population-based studies can now be planned to more robustly test the role of dental treatment on the employment outcomes of social assistance recipients. Results of such studies can inform policy and advocacy efforts at expanding public dental care programs for low-income adults, partly because of the role that dental treatment can play on improving employment outcomes.
Abbreviations
OW:

Ontario Works
CHCs:

Community Health Centers
PI:

Principal investigator
OHRQoL:

Oral Health Related Quality of Life
OHIP 14:

Oral Health Impact Profile
JSS:

Job-seeking Skills Self-efficacy
IS:

Independence skills
SS:

Social skills
Declarations
Acknowledgements
We acknowledge the support of Faculty of Dentistry, University of Toronto; Central Toronto Community Health Center; and Toronto Public Health for facilitating acquiring data.
Open AccessThis article is distributed under the terms of the Creative Commons Attribution 4.0 International License (http://creativecommons.org/licenses/by/4.0/), which permits unrestricted use, distribution, and reproduction in any medium, provided you give appropriate credit to the original author(s) and the source, provide a link to the Creative Commons license, and indicate if changes were made. The Creative Commons Public Domain Dedication waiver (http://creativecommons.org/publicdomain/zero/1.0/) applies to the data made available in this article, unless otherwise stated.
Authors' Affiliations
(1)
Discipline of Dental Public Health, Faculty of Dentistry, University of Toronto, Toronto, Canada
(2)
Li Ka Shing Knowledge Institute, St. Michael's Hospital, University of Toronto, Toronto, Canada
(3)
Faculty of Social Work, University of Toronto, Toronto, Canada
(4)
Hospital for Sick Children, Department of Pediatrics, Faculty of Medicine, University of Toronto, Toronto, Canada