Research article
Open Access
Open Peer Review
This article has Open Peer Review reports available.
Cone beam computed tomography in implant dentistry: recommendations for clinical use
Received: 3 July 2017
Accepted: 26 March 2018
Published: 15 May 2018
Abstract
Background
In implant dentistry, three-dimensional (3D) imaging can be realised by dental cone beam computed tomography (CBCT), offering volumetric data on jaw bones and teeth with relatively low radiation doses and costs. The latter may explain why the market has been steadily growing since the first dental CBCT system appeared two decades ago. More than 85 different CBCT devices are currently available and this exponential growth has created a gap between scientific evidence and existing CBCT machines. Indeed, research for one CBCT machine cannot be automatically applied to other systems.
Methods
Supported by a narrative review, recommendations for justified and optimized CBCT imaging in oral implant dentistry are provided.
Results
The huge range in dose and diagnostic image quality requires further optimization and justification prior to clinical use. Yet, indications in implant dentistry may go beyond diagnostics. In fact, the inherent 3D datasets may further allow surgical planning and transfer to surgery via 3D printing or navigation. Nonetheless, effective radiation doses of distinct dental CBCT machines and protocols may largely vary with equivalent doses ranging between 2 to 200 panoramic radiographs, even for similar indications. Likewise, such variation is also noticed for diagnostic image quality, which reveals a massive variability amongst CBCT technologies and exposure protocols. For anatomical model making, the so-called segmentation accuracy may reach up to 200 μm, but considering wide variations in machine performance, larger inaccuracies may apply. This also holds true for linear measures, with accuracies of 200 μm being feasible, while sometimes fivefold inaccuracy levels may be reached. Diagnostic image quality may also be dramatically hampered by patient factors, such as motion and metal artefacts. Apart from radiodiagnostic possibilities, CBCT may offer a huge therapeutic potential, related to surgical guides and further prosthetic rehabilitation. Those additional opportunities may surely clarify part of the success of using CBCT for presurgical implant planning and its transfer to surgery and prosthetic solutions.
Conclusions
Hence, dental CBCT could be justified for presurgical diagnosis, preoperative planning and peroperative transfer for oral implant rehabilitation, whilst striving for optimisation of CBCT based machine-dependent, patient-specific and indication-oriented variables.
Keywords
Cone beam computed tomographyDental implantsPresurgical planningGuidelinesRadiation doseVirtual patient
Background
Radiography is considered the most frequent diagnostic tool in daily dental practice, with more than one quarter of all medical radiographs in Europe being made by dentists. Since the discovery of x-rays 120 years ago, dental radiographs have been the predominant source of diagnostic information in the oral and maxillofacial complex. Yet, two-dimensional (2D) imaging techniques are unable to depict complicated three-dimensional (3D) anatomical structures and related pathologies.
In the nineties, there was a growing tendency in using 3D information as an aid for dentomaxillofacial diagnosis and treatment, while in the nillies, cone beam computed tomography (CBCT) imaging started to offer a solution for this growth by being made available in specialty clinics [1], These developments went hand in hand with the increasing use of 3D imaging applications for presurgical planning and transfer of oral implant treatment [2–4]. While the required 3D acquisition for dental applications was initially realized by medical computed tomography (CT), dental CBCT rapidly took over [1, 5]. The main reasons for the triumph of CBCT are its capabilities of volumetric jaw bone imaging at reasonable costs and doses, with a relative advantage of having a compact, affordable, and nearby or in-house equipment. For the clinicians involved in implant rehabilitation, the power of a dental 3D dataset is not only situated in the diagnostic field, but also in the potential of gathering integrated patient information for presurgical and treatment applications related to oral implant placement. Nowadays, rapid advances of digital technology and computer-aided design/computer-aided manufacturing (CAD/CAM) systems are indeed creating challenging opportunities for diagnosis, surgical implant planning and delivery of implant-supported prostheses. While there is still a huge demand for maximised integration of 3D datasets acquired from various imaging sources, there is also a call for simplified solutions. Yet, when striving for optimized patient-specific implant rehabilitation, the ultimate goal remains to fully integrate the available 3D imaging data thus creating the virtual patient, aiding presurgical simulation and peroperative transfer to the surgical field with further prosthetic rehabilitation [1, 5].
The aim of the present state-of-the-art paper is to present a narrative review providing support for the hypothesis on using CBCT for oral implant planning and to attempt formulating recommendations for justified and optimized CBCT imaging. Requirements for optimized use of CBCT and the related limitations are presented including a maximized use of available 3D CBCT data.
Methods
In order to find the relevant literature included in this article, an electronic search of MEDLINE (PubMed) database was performed. This literature search included studies published in English language or with an English language abstract published prior to November 30th, 2016.
To classify the available literature, specific search queries were used (Table
1
). In particular, these queries were combined in order to divide the available literature by specific topics. Figures
1
and
2
show the results of the searches and classification processes.
Table 1
Search queries combined in order to classify the available peer-reviewed literature, in MEDLINE (PubMed) database, on the use of CBCT in implant dentistry
| ID | Related topic | Search query |
| --- | --- | --- |
| #1 | CBCT use | cbct OR cone beam computed tomography OR cone beam computer tomography |
| #2 | Implant oriented application | jaw OR teeth OR dental OR dento* |
| #3 | Presurgical imaging | planning or presurgical OR preoperative OR planning or drill guide OR drilling guide OR template |
| #4 | Postsurgical imaging | radiological follow-up OR follow-up or postsurgical* OR postoperative* OR post-operative* OR after surgery |
| #5 | Image quality | image quality OR artifact* OR noise OR accuracy |
| #6 | Dose evaluation | dose OR radiation dos* OR dosi* |
| #7 | Implant planning | planning OR (planning AND (accuracy or accurate or validate or validation or evaluation)) |
| #8 | Postsurgical complication | complica* OR nerve OR iatrogenic OR damage OR neuro* OR vascular OR neural |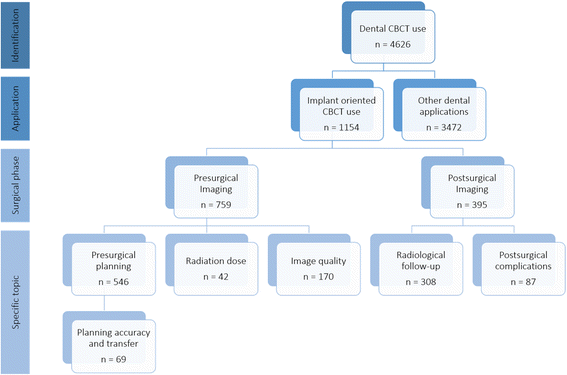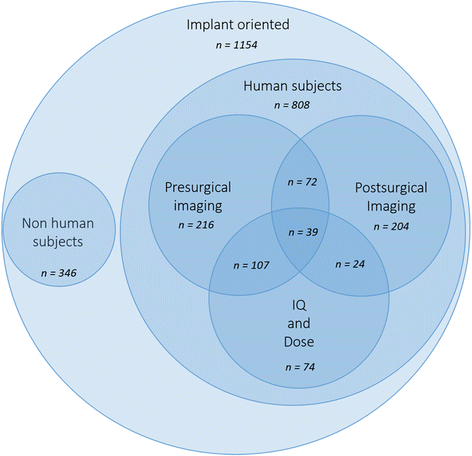 The performed electronic search was complemented by hand-searching, and the final selection of publications was performed after consultation of the working group, consisting of all coauthors of this paper. Disagreements regarding study inclusion were discussed by the investigators. The results of the search process were then summarized in 12 focused questions that identify different areas on the use of CBCT in implant dentistry:
1.

Why to use CBCT in implant dentistry?

2.

What is the radiation dose level of dental CBCT?

3.

Which parameters influence image quality in CBCT?

4.

When to use CBCT in implant dentistry: existing guidelines?

5.

How to apply CBCT guidelines for the individual patient?

6.

How to optimize scanning during presurgical use of CBCT?

7.

How to use dental CBCT beyond radiodiagnostics?

8.

What are the requirements for creating a virtual patient?

9.

What are the requirements for 3D model making?

10.

What should we know about metal artefacts in CBCT?

11.

How to export and transfer image data?

12.

When to use CBCT postsurgically?
These questions trace step by step the decision path that clinicians face in daily practice, see Fig.
3
. All together, they represent a series of recommendations that try to integrate the evidence found in the literature with the needs of the clinician.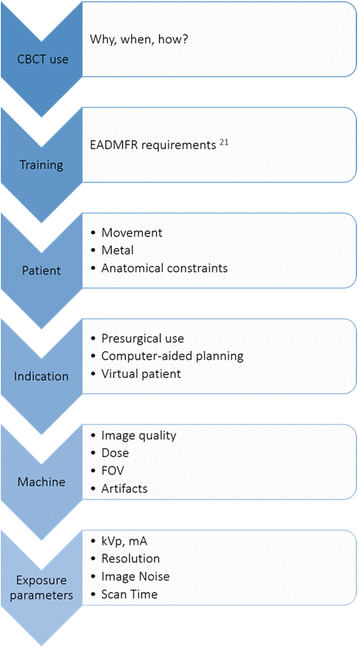 Conclusions
CBCT imaging is a well-established radiographic modality in treatment planning for dental implants, becoming increasingly popular and globally used in oral health care. This is partially due to new insights into anatomic landmarks, and structures at risk during implant placement such as neurovascular structures. Another reason for the growing use of CBCT scanning is the increasing popularity of computer-guided surgery that relies on digital planning based on high-quality CBCT images [38], but may also include the superimposition of intraoral scans and extraoral face scans to create a 3D virtual dental patient [36, 37]. The virtual patient concept is actually demonstrating again the need for standardisation of image data formats enabling a smooth integration of all available datasets (DICOM, STL, and OBJ files) into a craniofacial virtual reality model.
The use of CBCT imaging following insertion of dental implants should be restricted to specific post-operative complications (such as iatrogenic neurovascular trauma), required implant retrieval and follow-up of complex surgical procedures. While to fully grap the peri-implant tissues, is to obtain a three-dimensional view or the peri-implant tissues. And that brings us back to the clinical and the potential means for three-dimensional evaluation For long-term maintenance and follow-up of dental implants, we are still forced to remain with peri-implant bi-dimensional bone level measures on correctly taken periapical radiographs, even if had has no true prognostic value and considering that only the proverbial tip of the iceberg of the actual size and morphology of a defect seen.
The variation in CBCT performances related to radiation doses and image quality, emphasizes the need for more research to establish proper solutions for three-dimensional imaging following the ALADA principle, whilst focussing on artefact reduction caused by motion and metal. A further standardisation is needed for the grey level output as such to be able to assess bone healing, follow-up and evolution of pathological processes. Finally, lossless standard image communication as well as smooth and accurate integration of multiple image datasets, beyond the borders of CBCT, is another point of attention for future developments towards digital dentistry and the creation of an integrated virtual patient.
Declarations
Acknowledgements
The authors acknowledge the Digital Dental Society (DDS) allowing the working group consisting of all authors of this manuscript to meet, discuss and strive to reach an expert consensus at the D20 Meeting of the Digital Dental Society (DDS) in Milan, Italy, 16th – 17th September 2016.
Funding
The authors declare that they have not received any funding to write this manuscript.
Availability of data and materials
Data sharing is not applicable to this article as no datasets were generated or analysed during the current study.
Authors' contributions
RJ wrote the overall manuscript, while MC, BS, BH and MB provided specific section information which was integrated in this manuscript. Articles were reviewed and manuscript content discussed amongst authors present during the D20 Consensus Meeting of the Digital Dentistry Society (September 2016, Milan, Italy). This allowed further optimizing the paper. Finally, all authors read and approved the final manuscript as such that the present work reflects an expert consensus with recommendations for clinical use.
Authors' information
Not applicable
Ethics approval and consent to participate
Not applicable
Consent for publication
n/a: the manuscript does not contain any individual person's data in any form.
Competing interests
Michael Bornstein is an associate editor for BMC Oral Health. Other authors declare that they have no competing interests.
Publisher's Note
Springer Nature remains neutral with regard to jurisdictional claims in published maps and institutional affiliations.
Open AccessThis article is distributed under the terms of the Creative Commons Attribution 4.0 International License (http://creativecommons.org/licenses/by/4.0/), which permits unrestricted use, distribution, and reproduction in any medium, provided you give appropriate credit to the original author(s) and the source, provide a link to the Creative Commons license, and indicate if changes were made. The Creative Commons Public Domain Dedication waiver (http://creativecommons.org/publicdomain/zero/1.0/) applies to the data made available in this article, unless otherwise stated.
Authors' Affiliations
(1)
OMFS IMPATH Research Group, Department of Imaging and Pathology, Faculty of Medicine, University of Leuven, Leuven, Belgium
(2)
Department of Oral and Maxillofacial Surgery, University Hospitals Leuven, Leuven, Belgium
(3)
Department of Dental Medicine (DENTMED), Karolinska Institutet, Stockholm, Sweden
(4)
EA2496, Orofacial Pathologies, Imaging and Biotherapies Lab, Dental School Paris Descartes University, Sorbonne Paris Cité, Paris, France
(5)
Department of Odontology, AP-HP, Nord Val de Seine Hospital (Bretonneau), Paris, France
(6)
Unit of Radiology, IRCCS Policlinico San Donato, San Donato Milanese, Italy
(7)
Department of Oral Function and Restorative Dentistry, Academic Centre for Dentistry Amsterdam (ACTA), Research Institute MOVE, Amsterdam, The Netherlands
(8)
Applied Oral Sciences, Faculty of Dentistry, The University of Hong Kong, Hong Kong SAR, China