We're sorry, something doesn't seem to be working properly.
Please try refreshing the page. If that doesn't work, please contact us so we can address the problem.
Towards microbiome transplant as a therapy for periodontitis: an exploratory study of periodontitis microbial signature contrasted by oral health, caries and edentulism
BMC Oral Health
2015
15:125
Received: 4 June 2015
Accepted: 6 October 2015
Published: 14 October 2015
Abstract
Background
Conventional periodontal therapy aims at controlling supra- and subgingival biofilms. Although periodontal therapy was shown to improve periodontal health, it does not completely arrest the disease. Almost all subjects compliant with periodontal maintenance continue to experience progressive clinical attachment loss and a fraction of them loses teeth. An oral microbial transplant may be a new alternative for treating periodontitis (inspired by fecal transplant). First, it must be established that microbiomes of oral health and periodontitis are distinct. In that case, the health-associated microbiome could be introduced into the oral cavity of periodontitis patients. This relates to the goals of our study: (i) to assess if microbial communities of the entire oral cavity of subjects with periodontitis were different from or oral health contrasted by microbiotas of caries and edentulism patients; (ii) to test in vitro if safe concentration of sodium hypochlorite could be used for initial eradication of the original oral microbiota followed by a safe neutralization of the hypochlorite prior transplantation.
Methods
Sixteen systemically healthy white adults with clinical signs of one of the following oral conditions were enrolled: periodontitis, established caries, edentulism, and oral health. Oral biofilm samples were collected from sub- and supra-gingival sites, and oral mucosae. DNA was extracted and 16S rRNA genes were amplified. Amplicons from the same patient were pooled, sequenced and quantified. Volunteer's oral plaque was treated with saline, 16 mM NaOCl and NaOCl neutralized by ascorbate buffer followed by plating on blood agar.
Results
Ordination plots of rRNA gene abundances revealed distinct groupings for the oral microbiomes of subjects with periodontitis, edentulism, or oral health. The oral microbiome in subjects with periodontitis showed the greatest diversity harboring 29 bacterial species at significantly higher abundance compared to subjects with the other assessed conditions. Healthy subjects had significantly higher abundance in 10 microbial species compared to the other conditions. NaOCl showed strong antimicrobial properties; nontoxic ascorbate was capable of neutralizing the hypochlorite.
Conclusions
Distinct oral microbial signatures were found in subjects with periodontitis, edentulism, or oral health. This finding opens up a potential for a new therapy, whereby a health-related entire oral microbial community would be transplanted to the diseased patient.
Keywords
BacteriotherapyMicrobial transplantCariesEdentulismPeriodontitisRed complex
Background
The human oral microbiome is composed of a wide variety of microorganisms that play important roles in health and disease. Bacteria, for example, maintain oral and systemic health [1], but can also cause disease. Bacteriophages shape microbial diversity [2]. Protozoans and fungi consume food debris and other microbes [3, 4] and archaea utilize fermentation byproducts to produce methane [5]. Yet, in terms of microbial species, our current understanding of the human oral microbiome is limited to a few well-studied microorganisms. Based on what is known about these microbes, researchers have developed conceptual models with the explicit purpose of determining the etiology of oral diseases (e.g., [6, 7]). These models suggest putative interactions among the microorganisms as well as between microorganisms and the host. Although these studies have significantly advanced the field, recent studies show that the oral cavity is a complex and dynamic habitat consisting of hundreds of different interacting species [8, 9].
The conceptual model for periodontitis is that Porphyromonas gingivalis, Tannerella forsythia, Treponema denticola and Aggregatibacter actinomycetemcomitans are responsible for the disease [6, 10, 11]. Evidence from animal models indicated that these bacteria may disrupt tissue homeostasis by manipulating signaling pathways of the host and once the innate immunity is compromised, cause a shift in the relative abundance of microbes, resulting in inflammation and bone loss [12, 13]. Yet, it is well established that these bacteria i.e., P. gingivalis, T. forsythia, T. denticola, A. actinomycetemcomitans, are also found in healthy oral cavities (e.g., [14–19]). Moreover, P. gingivalis is not found in up to half of the patients with chronic or aggressive periodontitis [20]. The paradox of these microbes being present in both health and disease questions the validity of the conceptual underpinnings of the etiology of periodontitis, which invites for alternative ways of thinking about periodontitis as well as other oral diseases.
Conventional periodontal therapies aim at controlling supra- and subgingival biofilms and managing prognostic factors such as poor glycemic control in subjects with diabetes mellitus and active smoking [21, 22]. Although periodontal therapy has been shown to improve periodontal health and reduce the rate of further clinical attachment loss [23, 24] and tooth loss due to periodontitis [25–27], it falls short of completely arresting the disease. Almost all subjects compliant with periodontal maintenance care continue to show signs of progressive clinical attachment loss, and one- to two- thirds of them, lose one or more teeth during an extended period of periodontal maintenance care [28, 29]. We believe new thinking is necessary for finding successful ways of treating periodontitis.
The knowledge from a different field indicates that an appropriate microbial community is a key for maintaining resistance against infection. A classic example is the gut microbiome, which protects the host from Clostridium difficile (CD) infection. Specifically, some patients develop CD colonization of their gut upon antibiotic treatment, which eradicates out their innate microbiome. A successful strategy for combating CD by transplanting gut microbiota from a healthy donor was first medically recorded more than 50 years ago [30]. (The origins of the procedure date back to the 4th century in China [31]). Specifically, a suspension of stool taken from a systemically healthy intimate partner, relative or friend is introduced into the gastrointestinal tract of the recipient via colonoscopy, enema or a nasogastric tube. Recent systematic review reports approx 90 % efficiency of eradicating the CD infection by a fecal transplant [32]. Besides the CD infection, other potentially dysbiotic diseases were found to be responsive to the microbial transplantation, such as inflammatory bowel disease, obesity. For a review on current developments in the gut microbial transplant see Kelly et al. [33].
Inspired by the success of the fecal transplant, here we put forward a concept of a microbial transplant as a potential therapy for periodontitis. We envision the therapy of consisting of three steps: (i) harvesting sub- and supra-gingival microbiota from a healthy donor, e.g., spouse or a partner; (ii), performing deep cleaning, root planning and applying a broad-spectrum antimicrobial agent to the periodontitis patient; and (iii) neutralizing the antimicrobial agent immediately following by a rinsing with a microbial suspension harvested from the healthy donor in the periodontitis patient.
The objectives of the present study were two-fold. The first objective was to assess if the entire oral microbial community of periodontitis was different from established caries, edentulism, and oral health. The second objective was to test an approach for applying a broad-spectrum safe antimicrobial agent (NaOCl) to significantly reduce the load of existing microbiome followed by neutralization of this agent for subsequent microbial transplantation.
Results
Demographics
A total of 16 subjects, 4 subjects with each of the assessed oral conditions, were enrolled into the study. Ten subjects were from Germany and 6 from the U.S.A.; 9 were females and 7 males. The age of the enrolled subjects ranged from 28 to 92 years. Subjects with periodontitis had a median of 34 sites (range 15 to 48) with PD of 4 to 6 mm and 5 sites (range 4 to 26) with PD of 7 mm or greater while none of the subjects with caries and none of the healthy subjects had any sites with PD of 4 mm or greater. Subjects with caries had a median of 14 teeth (range 9 to 17) with established caries while periodontitis and healthy subjects were mostly caries free (Table
1
).
Table 1
Demographics of the patients population
Condition

Parameter

Healthy

Periodontitis

Caries

Edentulous

America/Europe

0/4

2/2

2/2

2/2

Male/Female

2/2

2/2

2/2

1/3

Ages

41 (31–52)a

47 (28–58)

39 (29–49)

77 (58–92)

Number of teeth

27 (25–28)

28 (22–30)

28 (22–31)

0

ICDAS ≥ 4

0

0 (0–1)

14 (9–17)

--

PD ≤ 3 mm

100

62 (26–79)

100

--

PD 4–6 mm

0

34 (15–48)

0

--

PD ≥ 7 mm

0

5 (4–26)

0

--
Microbial signatures
The average (± std) number of 16S rRNA amplicons sequences per individual oral microbiota was 13,104 ± 5,533 (Additional file
1
: Table S1). The length and GC content of the sequences was similar for all individuals: 514 ± 10 bp and 53 ± 1 bp, respectively. Comparison of the number of sequences, sequence length, or GC content revealed no significant differences by oral condition or gender, indicating a balanced data set. The rarefaction curve of most samples approached saturation, indicating sufficient reads for comparisons by condition and gender (Fig.
1
).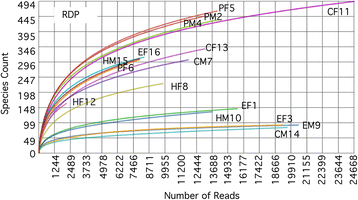 Alpha diversity of the oral microbiome in periodontitis subjects was significantly (p < 0.05) greater compared to that found in subjects with caries and edentulous subjects. Although the oral microbiome was more diverse in periodontitis subjects compared to healthy subjects, the difference missed statistical significance (p = 0.06) (Fig.
2
). The composition of the oral microbiome in subjects with periodontitis was distinctly different from that of all other oral conditions. Specifically, the periodontitis condition had greater abundances of Bacteroidetes (32 %), Fusobacteria (7 %), Spirochaetes (5 %) and Synergisetes (1 %) and fewer Actinobacteria (14 %) (Fig.
3
). Actinobacteria were most abundant in the oral microbiome of healthy (28 %) and edentulous subjects (34 %), followed by Firmicutes, which occurred in abundances of 22 % and 30 %, respectively (Fig.
3
). Subjects with caries showed somewhat lower abundances of Actinobacteria (19 % vs. 29 %) and slightly greater abundances of Fusobacteria (5 % vs. 3 %) in the oral microbial communities compared to healthy subjects (Fig.
3
).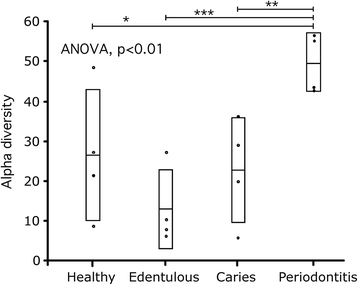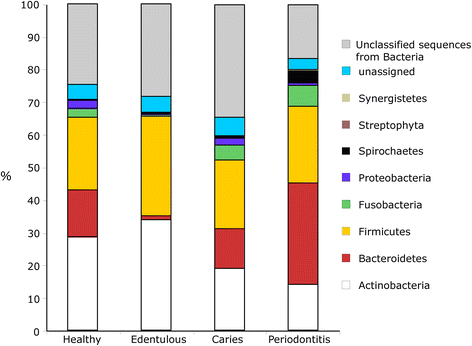 "The red complex"
An ordination plot based on the 16S rRNA genes revealed that the oral microbiomes in subjects with periodontitis, edentulism, or oral health formed distinct groups (Fig.
4
, left panel). The ordination plot explained 78 % of the observed variability. These results, along with the high diversity values, suggest that oral microbiome in subjects with periodontitis, edentulous subjects, and healthy subjects were very different from each other. Permutation MANOVA (pseudo F test, refs. [
42
,
43
]) showed significant differences in microbial species abundances between the four oral conditions (Bonferroni-adjusted p-value of 0.0083). The Bonferroni adjustment refers to the 6 comparisons, i.e., all pairs of the 4 groups. In order to determine if the "red complex" bacteria (
P. gingivalis
,
T. denticola
and
T. forsythia
) were absolute determinants for the microbial signature of periodontitis, the abundances of these organisms were removed from the original data set. Non-parametric MANOVA and ordination plot analyses of the data set without "red complex" bacteria did not alter the findings shown in Fig.
4a
or the p-value.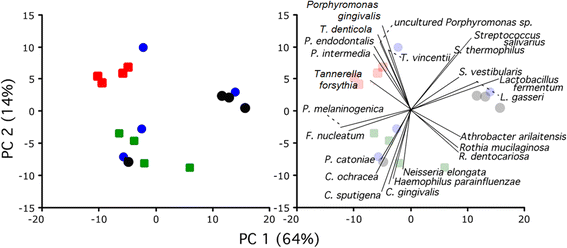 Projecting the top 23 contributing bacteria on the PCoA plot (i.e., biplot) shows the relative contribution of bacteria to the ordination (Fig. 4, right). Since the purpose of the biplot was predominantly illustrative, the number of displayed species, 23, was chosen arbitrary based on the upper tail of the histogram of projection sizes (Additional file 1: Figure S1). P. endodontalis, Prevotella intermedia, T. vincentii, and an uncultured Porphyromonas sp. were found to contribute to the microbial composition in periodontitis while a complex of P. melaninogenica, Fusobacterium nucleatum, P. catoniae, Capnocytophaga ochracea and C. sputigena, C. gingivalis, Haemophilus parainfluenzae and Neisseria elongata contributed to the microbial composition of orally healthy subjects. Members of the Streptococcus and Lactobacillus were associated with edentulism.
The species contributing to the differences in diversity and the groupings in the ordination plot are shown in Table
2
. Twenty-nine out of the 587 microbial species had higher abundances in patients with periodontitis than those in the other assessed conditions. In the healthy subjects, 10 out of the 587 microbial species were found in higher abundances compared to the non-healthy subjects (Table
3
).
Table 2
Bacterial species that had significantly different abundances (%) between individuals with the non-periodontitis (NP; e.g., healthy, caries, edentulous) and periodontitis (P) abundances based on Mann–Whitney test (alpha = 0.05)
| Phylum/class | Genus/species | NP | P |
| --- | --- | --- | --- |
| Actinobacteria | Atopobium vaginae | 0.01 | 0.35* |
| | Actinomyces georgiae | 0.05 | 0.35** |
| | Actinomyces meyeri | 0.10 | 0.49** |
| Bacteroidetes | Porphyromonas endodontalis | 0.12 | 2.91* |
| | uncultured Porphyromonas sp. | 0.04 | 1.26* |
| | Porphyromonas gingivicanis | 0.00 | 0.04** |
| | Tannerella forsythia | 0.20 | 0.83* |
| | Prevotella intermedia | 0.12 | 3.23* |
| | Prevotella pallens | 0.14 | 0.85* |
| | Prevotella pleuritidis | 0.00 | 0.01** |
| | Prevotella salivae | 0.20 | 0.74** |
| Firmicutes/Clostridia | Parvimonas micra | 0.12 | 1.19* |
| | Eubacterium saburreum | 0.07 | 0.28* |
| | Pseudobutyrivibrio xylanivorans | 0.00 | 0.06* |
| | Peptostreptococcus anaerobius | 0.07 | 0.50* |
| Firmicutes/Negativicutes | Megasphaera micronuciformis | 0.12 | 0.92* |
| Fusobacteria | Leptotrichia wadei | 0.10 | 0.32** |
| Proteobacteria/Deltaproteobacteria | uncultured Desulfobulbus sp. | 0.00 | 0.02* |
| Proteobacteria/Epsilonproteobacteria | Campylobacter rectus | 0.03 | 0.14* |
| | Campylobacter concisus | 0.03 | 0.07** |
| Spirochaetes/Spirochaetales | Treponema denticola | 0.07 | 1.60* |
| | Treponema maltophilum | 0.01 | 0.25* |
| | Treponema medium | 0.03 | 0.29* |
| | Treponema socranskii | 0.05 | 0.21* |
| | Treponema sp. | 0.03 | 0.10* |
| | Treponema vincentii | 0.07 | 0.71* |
| | Treponema pectinovorum | 0.00 | 0.04** |
| Synergistetes | Synergistetes bacterium SGP1 | 0.05 | 0.23* |
| | Aminobacterium colombiense | 0.01 | 0.05* |
Table 3
Microbial species that had significantly different abundances (%) between individuals with the non-healthy (NH; periodontitis, caries, edentulous) and healthy (H) abundances based on Mann–Whitney test (alpha = 0.05)
| Phylum/class | Genus/species | NH | H |
| --- | --- | --- | --- |
| Actinobacteria | Micrococcus lylae | 0.00 | 0.03** |
| Bacteroidetes | Prevotella marshii | 0.01 | 0.09** |
| Firmicutes/Bacilli | Abiotrophia para-adiacens | 0.22 | 0.60** |
| | Granulicatella elegans | 0.20 | 0.66* |
| | Granulicatella adiacens | 0.60 | 1.27** |
| | Streptococcus iniae | 0.04 | 0.15* |
| Firmicutes/Negativicutes | Selenomonas ruminantium | 0.00 | 0.10* |
| Proteobacteria/Betaproteobacteria | Neisseria polysaccharea | 0.00 | 0.02* |
| Proteobacteria/Gammaproteobacteria | Aggregatibacter segnis | 0.01 | 0.21** |
| | Haemophilus parainfluenzae | 0.17 | 0.46* |
Antimicrobial agent and its neutralization
Antimicrobial activity of sodium hypochlorite was tested with a volunteer's dental plaque. Resuspension of the plaque in 1:50 dilution of the household bleach, i.e., "the hypochlorite working solution" resulted in a complete inhibition of bacterial growth on a blood agar. In contrast, the viability of whole dental plaque bacteria was maintained following exposure to the hypochlorite working solution inactivated for 7 min with 23 mM sodium ascorbate buffer (Fig.
5
). Starch-iodine colorimetry assay revealed that sodium ascorbate - ascorbic acid buffer reduced the concentration of active chlorine by a factor of at least 800–1600, i.e., below 10–20 uM, after 30 s of inactivation.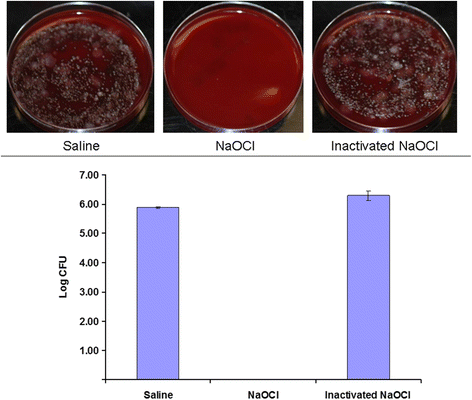 Conclusions
The present exploratory study revealed statistically significant microbial signatures of oral health and periodontitis. This finding presents a path forward for a potential new therapy for periodontitis, which could be based on substituting periodontitis-associated microbiome with the health-associated one. At the beginning (in 1950s), the fecal transplant therapy was successfully used without a deep mechanistic understanding. Currently, insights into the gene expression and metabolic effects of the therapy have been made (e.g., [73]). If the proposed therapy is proven to be successful, deep mechanistic studies will be of great interest.
Abbreviations
PCA:

Principal component analysis
PCR:

Polymerase chain reaction
MID:

Multiplex identifier
PCoA:

Principal coordinate analysis
bp:

Base pairs
Declarations
Acknowledgements
This work was supported by National Science Foundation (NSF) grant DBI 10388671 to PAN, intramural funding of the Medical School, Heinrich-Heine-University Duesseldorf to TB and NIH training grant 5 T90 D021984-03 to AEP.
Open AccessThis article is distributed under the terms of the Creative Commons Attribution 4.0 International License (http://creativecommons.org/licenses/by/4.0/), which permits unrestricted use, distribution, and reproduction in any medium, provided you give appropriate credit to the original author(s) and the source, provide a link to the Creative Commons license, and indicate if changes were made. The Creative Commons Public Domain Dedication waiver (http://creativecommons.org/publicdomain/zero/1.0/) applies to the data made available in this article, unless otherwise stated.
Authors' Affiliations
(1)
Department of Oral Health Sciences, University of Washington, Seattle, USA
(2)
PhD Program in Microbiology, Alabama State University, Montgomery, USA
(3)
Fred Hutchinson Cancer Research Center, Seattle, USA
(4)
Section of Periodontics, School of Medicine, Heinrich-Heine-University, Düsseldorf, Germany
(5)
Faculty of Dentistry, The University of Hong Kong, Prince Philip Dental Hospital, Hong Kong, People's Republic of China